The caftan is the fashionable garment that we usually wear when summer is on its way. In recent times, however, it has been found almost everywhere. Fashionistas and fashionistas have made it their new favorite garment and it is also particularly suitable for the curves of the pregnant woman. How to wear the caftan? We have put together all the tips for you to wear this piece well.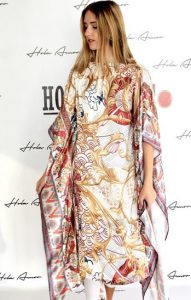 The short caftan: mix it with the right stockings and the right accessories
The caftan is pleasant and light to wear. Loose, it is adorned with small embroidery which gives it elegance and fantasy and makes it perfect for an outing. The red caftan is one of the most successful models in this category.
To wear it correctly, wear it with a loose sarouel-style skirt or a long skirt. Palazzo pants or loose tailored pants can also do the trick. It is a way of combining comfort and elegance. But if you are short in size and the kaftan comes down to your mid-thigh, sheer tights will transform it into a little dress or tunic.
Once worn, the caftan is mainly accessorized with a belt. Prefer an oriental model with embroidery that will harmonize better with the garment. If you feel like it, put on short denim shorts suitable for your pregnancy and flat sandals instead of a skirt or pants to protect your pregnant feet.
As for jewelry, pearl or gold earrings, bracelets designed with these same materials and a Moroccan necklace will be perfect. These are the accessories that give it its oriental style, but if you prefer a more neutral style, then opt for a discreet jewel to place at the level of the lace.
The open caftan: a multitude of possibilities
When choosing your pure silk kaftans, you will have the choice between short, long and open front models. Modernity requires, they can be long or short, with or without embroidery. If you find an open blouse type model, the small denim shorts will give you a light look.
But you can also match it with pants for an elegant style ideal for a party as well as for a business meeting. It is particularly suitable for leaving you free to move and discreetly hugs your curves.
The Takchita: the sophisticated version of the caftan
The caftan in its traditional form is a long dress with embroidery. It has changed a lot over the years and with inspiration. Today, you will find models that are very fitted at the top and flared at the level of the skirt. But there are also straight models that match all silhouettes, you can embellish them with a belt to place below the navel.
The caftan remains the ideal piece to have elegant comfort, whether for pregnant women or not. It is available in several sizes and colors depending on the desired effect. Both every day and for special occasions, it is a true ally of choice for women and will enhance your body.
To wear the caftan, you need to know what accessories to mix it with to be elegant in all circumstances. Pearl earrings, a gold bracelet, an oriental-style necklace and you're good to go. Otherwise, it's up to you to let your inspiration speak.
For more details, please visit: holaamor.org