Meeting the expectations of your customers and delivering the goods at the right time is your responsibility, which requires effective inventory management and monitoring. It even becomes cumbersome and difficult if not done with care.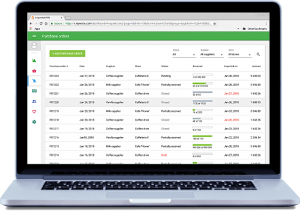 As a result, it could impact your processing capacity and warehouse costs. You might even run the risk of investing heavily in a stock that isn't selling.
But do not worry; there is a solution to these problems.
And it is cloud based inventory management software.
It ensures that you deal with these issues effectively and efficiently with its unique and useful features to simplify everything and reduce risk.
Let's better understand this software and how it can help your business succeed.
What is inventory management?
Inventory management software manages and controls a company's current inventory, including its inventory, purchases, and sales. It helps you keep track of all information, maintain efficient inventory, and simplify product pricing.
The cloud based inventory management software can guide you to facilitate the logistics management of products and automate different processes such as trade, ordering, transportation, costing, storage, assembly, shipping and delivery.
It also removes the need for manual tasks while improving efficiency, reducing costs and saving time. On top of that, it provides valuable information to help you accelerate the success of your business.
Now, you can find in the market advanced inventory management software of different types and applications depending on industry, type of business and type of inventory. Cloud-based inventory management software is even more useful and can be updated and synchronized in real time.
The main features of modern inventory management software include:
Optimize inventory
Asset tracking
Warehouse organization
Product identification
And more
What are its different types?
Inventory management software can integrate multiple tasks of an organization using best-in-class storage, ordering, purchasing, shipping, receiving, replenishment, tracking, and rotation technologies.
Different types of software available that serve different purposes, such as:
On-site inventory management software
Periodic systems for small businesses that need to send data periodically and maintain fewer products
Barcode systems to find and move inventory effortlessly and efficiently
SaaS systems hosted on the provider's server with a certain paid subscription
RFID tagging software to scan and manage products with better efficiency, but it's expensive
Perpetual systems are ideal for large businesses that need to continuously record inventory data.
Cloud hosted software is best for businesses of all scales because it is affordable and can be accessed from anywhere with no maintenance or updates required on your part.
Here we are going to talk about the latest one: a cloud based inventory management software which has become quite famous these days for the reasons mentioned.
What is the need for inventory management software?
Here is the answer.
Keeping the right inventory is important for a growing business. And this whole process is not that simple. From storage, warehousing, trading, shipping and organizing to asset tracking, it takes a lot of time, manpower and effort.
Doing everything manually limits productivity and deadlines, and as a business you would never want to over-sell your products or have back orders. It could impact your sales and income.
That's why you need an effective inventory management solution to gain the following benefits:
Automation of inventory tasks
The software can automate the overall management process using advanced tools. You can integrate to manage and track purchases, sales, warehouse records, and the number of products you have in stock.
For more details, please visit: alfacybernetics.com