The good management of the inputs and outputs of his cash register is one of the priority issues for a sales manager.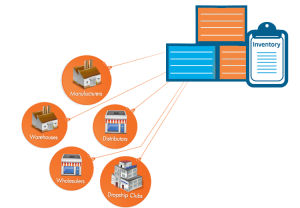 In this age of digitalization, it seems essential that merchants consider equipping themselves with the latest technological innovations at their disposal to keep their cash register. Indeed, this equipment now constitutes an asset for developing its activity and striving for more serenity in the commercial management of its business.
Among the novelties of recent years, point of sale software has become a tool in its own right in running a business and enabling performance.
What is point of sale software?
Point of sale software – or cash register software – is cash management software.
Easy to use, intuitive and configurable, it is a complete management solution. Integrated into a point of sale terminal, such as a cash drawer, computer or payment terminal, it advantageously replaces a standard cash register.
It can take the form of an application, and in this case, can be installed on a tablet or smartphone.
Its added value compared to a traditional cash register is the fact that it allows you to manage many aspects of the commercial activity of a point of sale:
It simplifies collections (edition of receipts) and is essential to boost performance
It facilitates inventory management (labels, prices, bar codes, supplies).
It simplifies the taking of customer orders.
All useful data is computerized and exportable.
The essential characteristics for all points of sale
The front office and the back office
Whatever activity it is designed for, cash register software consists of two inseparable elements necessary for the proper management of your activity: the front office and the back office.
The software's front office (collection point) manages daily actions:
collections,
the printing of receipts, invoices, delivery notes, checks, etc.,
Customer loyalty tools (loyalty cards, discounts, customer accounts, etc.),
inventory monitoring: it takes into account inputs (supplier deliveries) and outputs (customer sales) and calculates replenishments,
Access more or less reserved depending on the types of user profiles.
The essential characteristics by corporations
There is billing software for small businesses adapted to most types of points of sale as well as software dedicated to certain corporations.
The former develop features common to all business needs; the capabilities of billing software for small businesses dedicated to a sector of activity are more advanced.
Each type of activity has its own cash register software and specific business features!
Whether you run a restaurant or own a retail business, beauty salon, or pharmacy, there will always be software specifically designed for your business.
OUR ADVICE: take the time to consult all the offers, because business software is always more expensive than generalist, which is sometimes quite sufficient to meet the needs of your business.
However, some options are unavoidable and must be included in the software menu when it comes to certain areas, as an option pack or in all-inclusive packages.
Ready-to-wear or shoe stores:
size / color management
e-commerce module: allows you to synchronize "store" data with an e-commerce site so that you have only one database to manage
shoe size management
Food shops and bakeries:
management of product families, labels, bar codes
management of stocks, supplier orders, customers …
Take-out shops:
management of delivery routes
management and follow-up of customer orders
Catering:
management of the seating plan and tables
management of orders from the room to the kitchen
sharing of bills
management of meal vouchers
For more details, please visit: alfacybernetics.com