Does your company want to switch to dematerialized invoicing? Do you hear about the dematerialization of invoices without really knowing what it is all about? Far from being a simple digital transition, the dematerialization of invoices represents a real challenge for companies: process redesign, new organization, implementation of the validation workflow, new control and security settings. How to prepare for it effectively? What are the benefits of this change? Follow the guide.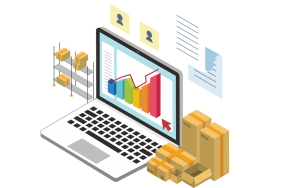 Dematerialization of invoices: an obligation from 2023
It is a reality: from 2023, French companies will have to get used to sending and receiving all their invoices (suppliers, service providers and others) in dematerialized format.
Exit the good old paper invoices in A4 format; By 2023, electronic invoicing will become mandatory for all businesses, regardless of their legal status, workforce, or industry. From the smallest micro-enterprises to large multinationals, all companies will have to go through invoice management software. Teleprocedures are already in place for B2G (Business to Government) companies. The dematerialization of invoices in the public sector has already become the norm, and from 2023, it will affect all companies in the private sector.
End of paper invoices: a smooth transition
In view of the technical and organizational difficulties involved in such a change, the transition will obviously be gradual. The dematerialization of invoices will not become an obligation from 2023, without prior preparation.
As a first step, from January 1, 2023, companies will be required to accept electronic invoices, without necessarily issuing them in this format.
They will have two years, between 2023 and 2025, to completely abandon the paper bill.
For all sectors of activity, this is a real challenge of technical, financial and organizational. According to the National Electronic Invoice Forum, of the approximately 2.5 billion invoices exchanged each year, only 15% are sent online. Many companies still rely on paper invoices, out of habit or reluctance, but above all due to a lack of knowledge of paperless invoicing systems.
Did you know? The dematerialization of invoices became mandatory on January 1, 2020 for all companies having the State or local authorities as customers. In other words, BtG (Business to Government) companies.
What exactly do we call "dematerializing" your invoices?
If it was just a matter of scanning a document, saving it as a PDF, and dragging it as an email attachment, the case would be resolved quickly. But this is digitalization, not dematerialization. It is true that between dematerialization, digitization and invoice digitization, the nuance is subtle. It is easy to confuse them.
Let us discern these three terms:
Digitization is the conversion of a paper invoice to a digital medium, ensuring an identical reproduction through billing software for small businesses.
Dematerialization is a complete process that does not imply the prior existence of a paper document. It consists of directly creating a digital document to integrate it into a process that includes an electronic signature, a reliable audit trail and a validation workflow.
Finally, digitization refers to the process of transforming the company, its organization, its working methods, but also its exchanges and communication channels.
Why the dematerialization of invoices will become essential
Faced with the changes brought about by digital in consumer habits and behaviors, it is difficult for companies not to follow suit. While France totaled 52.9 million Internet users in January 2021, and 82% of the French population was equipped with a computer, 65% with a smartphone and 40% with a tablet in 2017, many companies still favor the manual processing of documents, and sending by mail.
However, the generalization of digital solutions and the development of new technologies have completely changed the way of trading and consuming. Companies are now faced with a much more connected and demanding audience and clientele, who expect more from their relationships with their suppliers and service providers.
To stay competitive, you have to adapt. And dematerialization is one of the key stages in the digital transformation of companies. By replacing physical information media with digital files, the company is optimizing its management and facilitating access to data and documents, while increasing the security of its invoicing processes.
For more details, please visit: alfacybernetics.com