Chat Application Development
Currently, chat applications are trending and have a strong place in the digital age, replacing traditional SMS and MMS, which were originally the standard way to send text messages and images. In this era, chat apps, also known as instant messenger apps, have literally replaced the way people chatted before and become an integral part of the user's life. Messaging is now designed not only to send messages to each other, but also allows users to send tools such as images and audio, make voice and video calls, as well as group chats. The ideal mobile app development company requires features and capabilities that can be deeply adapted to various chat solutions. According to Statista, Whatsapp is the most popular chat application in the world, and Facebook Messenger is in second place, where the number of users is gradually increasing every day. These applications have already set benchmarks in the messaging industry, so people want to copy such chat applications before this date. If you want the chat application to be built, check out the basic features and capabilities provided in the chat application to be successful.
1. User login and authentication
Messaging is now not only about sending text messages and photos to others; That's not all. Therefore, first of all, in order to authenticate a user, the chat application requires the user's login, which will require the user to enter their mobile phone number and confirm it using SMS, which will be sent to him from the application during registration for security reasons. Messenger applications such as Facebook Messenger require email verification instead, when users need to click the link sent to their email address to confirm them. As a startup, you must implement the simplest options that are best suited to your target audience. You can also choose a regular login with a username or allow users to create an account or log in using their Gmail or Facebook accounts. After the registration process is completed, users will be able to create their own profiles with their personal information and upload a profile photo by selecting it from the gallery or providing access to the camera to take a picture and instantly upload it to the application.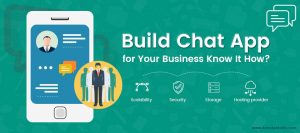 2. Sync
To increase the circle of friends in the application, the user's phone book contacts can be synchronized.
3. Status
Your application should have functions that allow the user to see if his message was successfully delivered, failed or read / viewed.
4. Voice messages
An important feature that is gaining in popularity is that voice messages are transmitted through voice media, which allows users to leave messages to others at any time without having to print.
5. Broadcasting messages
This feature, which is widely used by news corporations, allows users to select contacts and create groups to constantly send messages to several people. These messages will appear to recipients as regular messages that are not in a group. Broadcasting is not like multicast messages, as the recipients will not know who else has received the transmitted message.
6. Storage and backup through the cloud
This feature is important when people have lost their mobile phones or accidentally deleted the chat application, messages and media files, such as audio, video and documents, are stored in the cloud, so they can be accessed at any time from any device, wherever had an internet connection. you can simply enter your mobile phone number or email address, which was used to enter the application. Cloud storage and sync are also especially useful for people who use multiple devices to access their chat application. Having the entire backup in the cloud gives users a sense of satisfaction that their data and message history cannot be lost.
7. Encryption
What is encryption? Also known as E2EE or end-to-end encryption, it is an extremely valuable high-end security system that allows users to communicate in order to read messages. Encryption was designed to prevent surveillance attempts to prevent hacking or decoding by third parties of data that is transmitted and transmitted from one device to another. Security, of course, must be present in all instant messaging applications to protect confidential information, and encryption is a vital security feature that affects the choice of chat application.
8. Media exchange
This feature, she claims, allows users to share multimedia data with each other, such as images, audio, documents, stickers, GIFs, etc. Media sharing can be one of the monetization options for a chat application.
9. Push notifications
Chat applications do not end without push notifications to warn users about checking for new messages. Therefore, push notification is a must-have feature for every instant messaging application, which serves as a direct link between the application user and the chat application. You can also tell users when their friends will be online. By adding some additional features to your chat application, you can draw the attention of many people to using your chat application.If you want to create a chat application for your business, contact us. Our mobile application developers are enriched with experience in creating world-class instant messaging applications.
For more information visit our site: Napollo