Sales management is an important part of an organization's business cycle with the help of POS system with inventory management. Whether you are selling a service or a product, sales managers are responsible for leading the sales force, setting team goals, planning and controlling the entire sales process, and ultimately making it happen the team's vision. More than any other group in an organization, the role of a sales team is probably the most crucial, as it has a direct impact on an organization's revenue.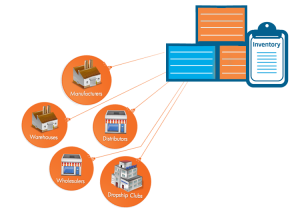 One of the most important jobs for you as a sales manager is to set up and implement a sales process for your business. Let's take a closer look at designing the ideal sales process for your business.
What is a sales process?
No business is the same and the same logic applies to creating a sales process. Ideally, your sales process should mirror the buyer's journey and be clear and meaningful. It should even be understood by a new sales representative. As a sales manager, you need to define a sales process that ensures you achieve your specific goals at every stage and that walks the lead through the system without any obstacles.
To understand where the sales process fits in an organization, it's important to understand what a sales and marketing funnel is and how a lead flows through the funnel.
Set up a sales process for your business
As you can see in the sales and marketing funnel illustration above, sales play a big role at the bottom of the funnel. As a sales manager, it is essential to have the right process in place to convert the leads sent to you by your marketing team. Here's a step-by-step explanation of what you need to do at each stage of the sales cycle to maximize your chances of converting these promising leads into your pipeline.
Selling in the digital age
Sales, like any other aspect of the business, have evolved over the years. The purchasing behavior of customers has changed completely. Customers no longer wait for a sales representative to guide them through their buying process. Research suggests that around 81% of shoppers research online before making a purchase. So it's especially important that sales teams are where their customers are.
When the default approach to doing business goes digital, your organization needs to go with the flow. From researching customer information to predicting the possibility of a deal closing, using today's digital sales tools can have a positive impact on business ROI. The digital age has opened up many avenues for sales teams to interact with their customers through renowned POS system with inventory management.
Lead scoring
Attracting a large number of leads is not enough; you need to be able to score them effectively. As we saw earlier, scoring leads should be the first step in your sales process. So it's extremely useful to have a system that can automatically score leads as they enter your pipeline.
Lead scoring helps sales teams identify the real value behind different leads in their pipeline and set realistic goals for themselves. You can also find out which types of MQLs (Marketing Leads) convert the most.
For more details, please visit: alfacybernetics.com