Search engine optimization or SEO remains one of the most powerful tools in digital marketing today. It is one of the most effective ways to increase your search engine ranking and, as a result, attract more traffic to your website.
SEO is especially instrumental for small businesses that try to build a brand within a budget. SEO that is strategically implemented can attract more traffic to your website, help you make profitable conversions and, best of all, help you create easy-to-use websites. Despite the fact that SEO is popular, several companies are still not very aware of how to implement it. Many small businesses tend to make mistakes that can endanger their businesses. These are some of the most common mistakes made by small businesses in SEO and how they can be fixed.
Click here: Digital Marketing Services in UAE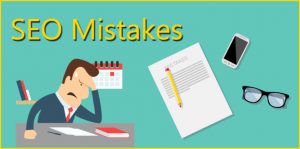 Does Not Define Your Audience
The basis for executing an effective SEO strategy is to understand your target audience. A number of small businesses fail to properly define their customers. They adopt a broader and more general approach that includes people who do not use their products.
Solution: focus on desirable characters in an ideal audience and attract these characters. You may have to define certain aspects such as gender, location, desires / needs, marital status, age, etc. The more you define your client, the easier it will be to reduce a highly receptive audience.
Snowballing With Keywords
Time and again, our favorite and trusted blogs have tried to define the difference between keyword stuffing and the use of the right proportion of keywords to content. However, many small businesses still do not understand this concept. Most people think that the higher the number of keywords in a content, the more traffic. This is a wrong approach. Your keywords should fit naturally within the context of the content and should not appear as if they had been forced into it for the sole purpose of gaining traffic.
Solution: Remember that in all cases, your customer is the top priority. Traffic arrives later. Your content must be made for users first and search engines second. Practices such as keyword stuffing, especially when forced, may be unattractive to users and search engines do not prefer these practices also in SEO. The ideal ratio is a 1-3 percent ratio of keywords to text, but it can be higher or lower as long as the keywords fit the context naturally.
Inconsistency With Your Contact Information.
You may have noticed that several small businesses do not have a proper form or structure when it comes to their contact information. In some cases, the contact numbers and location given are even invalid. This is a big mistake, especially when it comes to local SEO. Search engines like Google are very meticulous when it comes to verifying the consistency of their contact information because this is proof of their reliability and credibility.
Solution: check all your profiles online. Make sure the contact details are consistent in all these profiles. Also, always update your location and contact numbers if any of them change. Not updating your contact information means losing a number of potential leads.
Pay Attention To Your Title Tags And Meta Descriptions
After all, it is the first thing a user sees on the search engine results page. Many small businesses fail to optimize these tags and, as a result, they do not stand out enough to capture user attention. Solution: the title tag and meta descriptions are descriptive text. You should summarize what comes on your website in just 160 characters, so it requires a little creativity. The title and meta description tags must contain the most relevant keywords and must not exceed 160 characters. You should be able to take a look at your website in the most interesting way possible.
Not Paying Enough Attention To Internal Links.
Most people are aware of the importance of external links and go further to obtain as many external links as possible. What most small businesses ignore is the importance of internal links. Internal linking is an essential aspect of SEO that helps people find useful information on their website.
Solution: Do not ignore the importance of internal links. These links can help search engines find more of their pages, resulting in a better ranking of search engines. One of the best ways to add more internal links is to ask internal content writers to write blogs that contain links to one or more of their previous publications and services. When providing internal links, ensure that the links are up to date and that the information is not outdated. If there are broken internal links, be sure to correct these links as well.
Ignoring The Importance Of A Website Optimized For Mobile Devices
Mobile phones are useful devices that are an integral part of our daily lives. Gone are the days when we sat behind a desk to look for information. Today, the world is at the tip of our hands. Anything and everything is available through your mobile. However, business owners ignore the simple task of seeing that their website is optimized for mobile devices. It is not enough to feel comfortable with the fact that your website is optimized for desktop. Most of its traffic comes from mobiles and that is where it should be concentrated.
Solution: Use tools such as the Google mobile device compatible test tool to verify if your website is compatible with mobile devices. You should observe aspects such as the responsiveness, the loading time of the page and verify if there are errors on the site. Your website must have a responsive design because it improves the user experience. If your website gives the user a smooth and effortless experience, there is no going back. You can be sure that the same user will return to your website at another time.
For more information visit our website Digital Marketing Services In UAE