Memory cards are an essential component of digital photography. How to choose a memory card and 8 tips to minimize problems with its work. The result of a problem with the memory card
Click here : Buy Pakistani Stock Images
What is a memory card?
A memory card is an accessory for storing data, in this case, photos. A square or rectangular card is inserted into the camera and reads / writes each created image file. At the end of the shooting, the memory card can be removed from the camera and connected to a computer, where the images are then overwritten for viewing, editing and storage.
How to choose a memory card and 8 tips to minimize problems with its work
There are many different memory cards created to meet different needs, camera models and designed for different budgets. Before buying, be sure to familiarize yourself with the specifications of the camera.
Memory Card Selection Criteria
Capacity
Up to 1000 photos in RAW format can be stored on a 32 GB memory card . Assuming that the size of a single RAW file is 30 MB, in general, the Canon 5D MKIII will create a RAW file between 25 and 35 MB in size. In addition, up to 500 photos, etc. can be stored on a 16 GB card. SanDisk Extreme SDHC 32GB Class10 UHS-I U3 V30 600x (SDSDXVE-032G-GNCIN) memory card. Reference: DAN-2352. If you shoot in jpeg format, then about 3200 photos can be placed on a 32 GB card, provided that the jpeg settings retain detail and a large file size.
A type
There are many types of memory cards available on the market: from Micro SD, SD-cards, CF-cards, M2 (from Sony). But in the world of photography, the following are most often used:
Secure Digital (SD)
How to choose a memory card and 8 tips to minimize problems with its work
By far the most common type of memory card. Compatible with most digital cameras. They are limited to 4 GB; everything above is an SDHC card.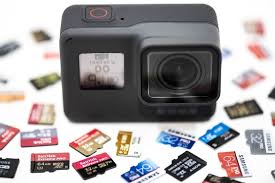 Sdhc
How to choose a memory card and 8 tips to minimize problems with its work
SanDisk Extreme SDHC 32GB Class10 UHS-I U3 V30 600x (SDSDXVE-032G-GNCIN) memory card. Reference: DAN-2352
The Secure Digital High Capacity (SDHC) card was created to meet the high demands of high-definition photography and video. They have the same physical size and shape as standard SD cards, but meet the specifications of version 2.0. Currently limited to 64 GB, and everything above is classified as an SDXC card.
How to choose a memory card and 8 tips to minimize problems with its work
SanDisk Extreme SDXC 64GB Class10 UHS-I U3 V30 600x (SDSDXVE-064G-GNCIN) memory card. Reference: DAN-2353
Eye fi
A kind of SD with built-in support for Wi-Fi technology. How to choose a memory card and 8 tips to minimize problems with its work
Compact Flash (CF)
CompactFlash (CF) cards offer extremely high capacity and fast processing times. Now they can usually be found only in the most modern SLR cameras, that is, they are intended for professional use (they are even physically larger than SD cards).
Speed
Speed ​​means writing data and reading it from the map. The value indicated on the card indicates the maximum speed that the card can read, but still the most important thing is the write speed. The read speed comes into effect when you transfer data from the card, the write speed comes into play during the shooting process.
Price
When it comes to price, the main criterion that determines the price is the speed of the card. The next deciding factor is capacity. SD card is 50% of the price in the same capacity of the CF card. So if you want to buy a high-speed card with the same capacity, you will have to pay more. On the other hand, if you want to buy a large capacity card at a lower price, you simply get a card with a lower speed.
A large memory card is better suited for professional high-performance digital SLR cameras because the images they receive are larger. This is especially true if you shoot in RAW format, as the size of each file can exceed 25 MB. Remember that if your DSLR records 4 frames per second, you do not need the fastest recording speed. If you have a small budget, then a slower card will suit you.
Also, when choosing, it is important to consider compatibility: memory cards will only work if they are compatible with the proposed camera. We should mention the UDMA (Ultra Direct Memory Access) rating – cards are rated from 0 to 7, where 0 is the lowest and 7 is the highest performance. Please note that not all devices support all speeds, so check this carefully before buying. All cards are without a doubt an amazing technology, but also require caution. So, below are 8 rules for using memory cards to minimize the problems of their work and safely store data.
Use a good card reader
As mentioned earlier, there are various types of memory cards, each of which has different characteristics and quality levels. There are also appropriate card readers of various qualities. Card readers are devices that transfer data from a memory card to a computer. Although card readers look pretty straightforward, I don't want to risk damaging the files when they are downloaded. Investing in a good device can protect you from stress in the future.
How to choose a memory card and 8 tips to minimize problems with its work
Lynca USBKH case for storing memory cards with a card reader. Reference: DAN-3776
Buy quality cards
How to choose a memory card and 8 tips to minimize problems with its work
The result of using a cheap memory card
Unfortunately, such an image cannot be restored. Buying a good memory card is obviously the key to protecting images. Although quality cards will be expensive, cheap cards can jeopardize your shots. Brands like SanDisk and Lexar attract professional photographers. Avoid offers that look "too good to be true," or dubious brands with bad reviews.
Safely remove the memory card from the computer (!!!)
Although disconnecting the memory card from the computer without removing it may seem safe, you can jeopardize your next shoot. Failure to remove the card may result in data corruption or breakdown. To minimize such problems, always remove the card correctly through the computer.
Turn off the camera before removing the memory card.
Another easy way to minimize problems with the memory card is to turn off the camera before removing the card. Removing a memory card while the camera is still on may interrupt the recording process and potentially damage image files. Also, avoid shooting with a low battery. If your camera runs out of power while reading / writing, it may damage all data on the memory card.
Do not fill the entire map with images
It sounds somewhat illogical: if you have a place, why not fill out a map, right? The fact is that, as with the hard drive, this can jeopardize the available data. To avoid this problem, invest in a card with a large amount of memory, monitor the number of images, do not fill it more than 85-90% and always keep a spare ready.
Do not switch between devices without formatting
Switching the memory card to different camera devices can lead to compatibility problems, which again can damage the data. If you need to change equipment, format the card before use or take a new one – this is the safest way.
Do not delete files through the camera
If you take a photograph that you are not very interested in, it is tempting to immediately erase the image. However, deleting photos individually in the camera may damage the images. In addition, viewing and deleting images takes valuable shooting time. Wait until the files are downloaded to the computer and from there delete unnecessary content.
Format the memory card before using it.
At the beginning of a new survey, you will need a blank memory card that is ready to read / write a lot of new data. To do this correctly, it is recommended that you first format the card in the camera. Selecting a format in the camera menu will clear the card, preparing it for recording new image files. Formatting before shooting also minimizes the likelihood of scrambling new images with saved data left on the card from previous shots.
For more information visit our website:  https://imagesmall.com