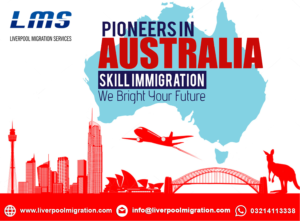 Tips to prepare for the PR visa of Australia in 2019
Backed by a strong economy, lucrative employment opportunities, world-class infrastructure and a balanced lifestyle, it's not surprising to see Australia's PR visa grow as the most popular immigration option for thousands of people. Each year, the country receives millions of foreign professionals seeking to live and work in the country under different visa categories.
However, before making the decision to migrate, one must understand the procedures involved and the steps that must be followed to improve their chances of emigrating to Australia as permanent residents. But before that we are going to discuss the benefits of migrating to Australia.
Benefits of acquiring permanent residence status for Australia
As a permanent resident, one has the right to live and work in Australia for an indefinite period of time. They can also travel to and from Australia without restrictions or restrictions.
Once the visa is granted, they can obtain unlimited access to free medical facilities, education and other social / safety benefits (after two years). Holders of PR visas have multiple options to choose from in terms of colleges, universities and even educational loans to apply for. These loans are very useful to rationalize your financial needs and incur expenses that may arise on a day to day basis.
The next important benefit that permanent residency holders can obtain is that of work permit rights. Having a PR visa in Australia means that you can choose to work in any field and with any employer in Australia. However, you cannot request government jobs, such as Public Service or Armed Forces, as it is strictly restricted to Australian citizens only. In spite of this, all industrial laws, labor rights and policies related to remuneration are the same for PR holders and citizens.
As a permanent resident, you have the right to receive a right to medical care along with a health insurance plan provided by Medicare. It is a renowned publicly funded service provided by the Government of Australia that provides free access to a range of medical services such as doctors, health specialists, dentists, prescriptions and more.
The children of permanent residents born in Australia are by default the citizens of Australia.
Key steps for the presentation of the PR of Australia
Select the type of visa you wish to apply according to the Australian immigration model. There are three subclasses of visas that candidates can choose from. They described below:
o Qualified independent subclass 189
o State Nomination Subclass 190
or provisional subclass 489
It should be borne in mind that each subclass comes with its own set of requirements, so it is essential to choose your option wisely.
In the next step, check if your occupation is included in the skilled occupation list (SOL). The list contains all occupations "in demand" for which there is no local talent available. Therefore, one must confirm whether or not their work profile appears in SOL before continuing with the Australian PR visa process.
At this stage, calculate your immigration points and meet the minimum score on the Australian Occupational Demand List, which is 65 points out of 100. Points are calculated based on age, work experience, educational qualifications , linguistic ability and other factors. .
Now, get a positive skills assessment done by a relevant authority. This is the most significant step, so do it wisely. The purpose of evaluating your credentials is to identify if your educational qualifications and work experience are related to the designated occupation.
This is the documentation stage in which you must collect all the relevant documents related to age, qualification, IELTS report, use of reference letters, etc. When going through this stage, be careful when scanning the documents, as any error or omission could hinder your chances. to get an ITA.
Send an EOI (Expression of interest) online through Skill Select to declare your intentions to work and settle in Australia permanently. At this stage, the applicant must provide answers to a series of questions related to their professional experience, education and others.
Depending on the information you provided in the previous stage, you may or may not receive an ITA / nomination. The decision depends entirely on the discretion of the immigration officer. If you receive an ITA, you must pay Australian public relations fees and complete other paperwork related to the 60 day period.
The process for submitting the Australian PR visa can be done in accordance with the steps mentioned above. However, it is always advisable to consult an immigration professional advisor in case of any doubt or concern. Without the guidance of an immigration partner, it could be a bit difficult to make progress on this trip.
For More Information : Apply Australian visa online