Warning: This is almost as silly as I will probably get in this blog. I was inspired by all the people who stole Jordan Peterson's "3 Rules" concept, so I thought this was a good opportunity to summarize some of the lessons I learned in my more than 20 years in the digital space, no matter how small and trivial or large and debatable they can be.If you have been reading this blog regularly, you have probably seen me mention all these things at one time or another. But I've never checked them all in one place at the same time, so I hope you get some value from this.
Originally, I discussed what I wanted to call this publication. I played with the term "3 rules for digital marketing agency dubai UAE", but I didn't want to offend anyone who disagreed with me or who didn't follow these rules in the past. I also considered "digital consciousness", but it seemed even more philosophical than most people expect in a technical blog like this.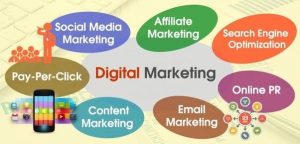 Without any particular order, here are my 3 rules for digital vendors:
No CMS does everything you want.
Open source is not free.
IT and marketing rarely look face to face.
Rule 1: No CMS does everything you want.
Since we spend so much time talking about CMS in this blog, maybe it's time to download in the industry in general with another rule that will disappoint many.
The fact is that no CMS will do everything you want. No system can provide 100% coverage of functions. And those who approach will probably go so far by using several hacks, add-ons and extensions.
The CMS space is a bit broken and there are many broken promises.
The best advice I can give when acquiring a CMS and building a content project is to understand the above rule and prepare for it by understanding where the deficiencies are within a particular platform, as well as how you can deal with it. The sad truth is that no CMS provider will tell you the areas of concern where your platform may fail. In fact, you may not even know it until your project is in progress or is already completed. But trust me when I tell you that you will never get 100% of what you want.The only possible way to get very close is to build your CMS from scratch. We make many custom CMS developments. However, even in those cases, customers continually have to make sacrifices. It is usually due to budgetary reasons. But sometimes, it is because a request simply cannot be fulfilled.Then, do yourself a favor and trust me: no CMS does everything, and anyone who promises to do so should study very carefully because it means that someone is not being honest.
Rule 2: open source is not free.
I laugh when people aim to use WordPress or Drupal because it's free.Trust me, nothing is free.Open source software can cost you as much as long-term licensed software. I have written about WordPress as an example before, highlighting what it really costs to run WP in a business environment. Spoiler alert: it is not cheap. The platform has security flaws, scalability problems and other reasons that cause your bill to skyrocket as time goes by.
I would be willing to admit that open source platforms are definitely cheaper than commercial options to implement. But the scope of savings is difficult to predict since there will be time in other areas that, with a commercial implementation, could be avoided. It is better not to pretend that cost savings will be significant and, instead, budget accordingly.By the way, when it comes to budgeting, I think it is better to budget continuous maintenance very carefully with open source platforms. They need monitoring, support for uptime and regular updates. I would even say that the number and frequency of updates in open source software are higher than commercial ones, which will also cost more in the long run.
Rule 3: IT and marketing are rarely seen face to face.
I have not yet seen an organization in which IT and the marketing team look face to face when it comes to conducting business in the digital space. I am definitely prepared to call this a difficult and fast rule. The only exception is when one of the parties accepts the other with frustration, essentially giving up.
I will not accuse any of the parties here in court of misbehavior. In fact, it is generally only people who do what they are supposed to do within their job function that results in animosity. IT teams are dedicated to processing; They are risk averse planners and careful. Marketing specialists are much more agile, prone to take risks and a little more likely to break the protocol to perform a task.
No wonder these people can't get along all the time!
There are solutions, however. First, marketing is taking on more and more digital work, including the production and acquisition of technology. In fact, it is predicted that marketing specialists will spend more money on technology than their IT counterparts in the near future. IT's willingness to decouple from digital means that marketing can be the owner of this environment and free itself to execute the things they choose.Second, if IT refuses to be removed from the equation, it can allow supervision or management of digital maintenance projects. I have seen that both approaches work.
However, I have not seen successful marketing growth in situations where IT cannot transfer a certain level of control to marketing. In fact, I have seen several companies lose a significant marketing ROI because they are held back by archaic IT requirements. Nothing frustrates me more than that scenario, which I see several times a year.
For more information visit our site Seo services in New York