It's been a while since the denim jacket has slowly moved out of its comfort zone and stretched down to our calves or ankles, gently establishing itself as the must-have for the next mid-season. How to wear it? For which morphologies? With what stocking? What shoes? All our advice and look ideas to get into the trend of the long denim jacket!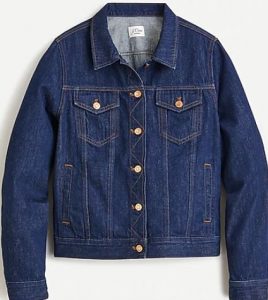 Oversized denim jacket and long jacket: what are the differences?
Well aware that fashion terminology is sometimes a little dark; we prefer to start with a small point "long denim jacket vs oversized jacket", to understand each other well. An oversized jacket can be a bit long, but it is mostly wide, which is why we talk about "oversized" (literally "too big" in English). The long denim jacket is your size and it's the fit that makes it long, not just the fact that you swim in it. Do you see the subtlety?
The long denim jacket: for which body types?
The easiest models to wear and which generally suit all body types are those that fall mid-thigh or above the knee. With this type of long denim jacket, you don't risk much, whatever your figure. On the other hand, things get a bit tricky for mid-calf lengths (known as "midi" length) and ankles. To perform well with such a long denim jacket, it is better to be tall and / or wear high heels. In terms of morphology then, we adapt the cut of his jacket to its shapes. When we are round, we put on a straight cut that will lengthen and refine the legs and, overall, the whole silhouette. Rather thin women can opt for straight or curved, as desired.
How to wear the long denim jacket?
If you've set your sights on a jacket that falls at the level of your thighs, rest assured: this length goes almost with everything and you do not risk the fashion faux-pas. On the other hand, midi-length and ankle-length denim jackets are a bit trickier to match, but nothing is impossible. We give you the keys to a successful look with a long denim jacket.
What pants?
For the look to work, we advise you to go skinny or slim. Loose palazzo pants for women and culotte-type cuts are avoided, which would create too much volume at the legs, thus visually increasing their size.
Which dress or which skirt?
If you prefer to wear a dress or a skirt with your long denim jacket, you won't have a choice if you are petite, you will have to bet on the short. Always with the idea of ​​getting longer legs, we throw ourselves on mini-skirts and mini-dresses cut straight, which fall mid-thigh or just above the knee preferably. Note that a pencil skirt just below the knee can also work, but it will require wearing high heels.
If, on the other hand, you are rather tall and slim, you can opt for flat mule-type shoes with a square toe and a pleated midi skirt.
What shoes?
If you're in doubt about what shoes to wear with a long denim jacket, go for a heel. The risk of the flat shoe, coupled with a midi length or ankle length, is indeed to compress your silhouette if the games of volumes and lengths are not perfectly mastered. Beyond that, we like sneakers, mules, boots, pumps, etc. Be aware that, if you have the legs for it, the thigh-high boots work great with the long denim jacket.
For more details, please visit: holaamor.org