Do you have missing teeth? Do you need a complete tooth restoration? Now you can do it in just 1 day! The All-on-4 system restores dentition with minimal surgical intervention.
Click here : Dental Crowns in Dubai
What is an All-on-4 system?
This is an innovative dental restoration system. This method is suitable in the absence of teeth. A fixed prosthesis is mounted on four implants. Lateral implants are installed at an angle of 45 degrees, which allows the method to be applied to patients with a small volume of bone tissue (for example, if the teeth are missing for a long time). With this method, you will receive 100% restoration of aesthetics and chewing function without any discomfort.
Basic installation steps
What steps do you need to go through to return a healthy and beautiful smile?
Planning
At the initial examination, the doctor examines and evaluates your well-being, condition of the teeth and gums, answers questions and describes in detail the upcoming treatment plan. You go through a computer diagnosis, and then the doctor makes a three-dimensional computer model of the jaw. With the help of tomography, the doctor will be able to plan the installation of the All-on-4 system with jewelry accuracy, and you will get a guaranteed result.
Then casts are taken (if preparation is required, then casts can be taken after it).
An individual prosthesis with holes for abutments is made according to the casts.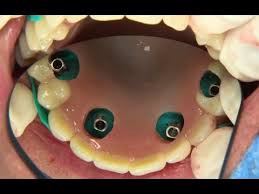 Training
Before installing the system, you need:
Remove loose roots.
Treat all gum disease. All this is necessary in order to eliminate all foci of infection that may affect the result of tooth restoration.
Implantation and installation of a temporary prosthesis
This is the main stage. It lasts from 2 to 4 hours. First, the doctor puts four implants: two frontal and two lateral at an angle of 45 degrees. Each implant consists of two parts: a titanium root and an inclined abutment with screw fastening. The implant is inserted into a hole made exactly to its diameter. A light non-removable (temporary) denture can be installed immediately. The patient wears it until the complete engraftment of the implants.
Permanent prosthesis placement
After complete engraftment, the doctor will replace the adaptive prosthesis with a permanent one.
What do you get after completing all stages of treatment?
Restoration of the dentition in one day, even with a small amount of bone tissue. No expensive bone grafting is required! The most gentle implantation. When using the All-on-4 method, only 4 implants are installed. And with classical implantation, restoration of a dentition of 12 units will require from 6 to 10 implants. Saving money compared to traditional implantation methods. A new level of comfort: quick restoration of diction, aesthetics and chewing function. You can smile without hesitation and eat your favorite food.
External rejuvenation of the face.
Getting rid of the usual dental diseases and bad breath. Do not waste your time. Make an appointment – the initial consultation is completely free! And do not forget to ask about how to get a discount.
For more information visit our website Versailles Dental Clinic