The chambray shirt has become an essential part of the men's wardrobe. This popularity is due to its particular style in fact it has a somewhat raw rendering and an irregular color which gives it a unique appearance.
A chambray shirt is the assurance of acquiring a piece that will acquire a slight patina over time to gradually become a unique item of clothing.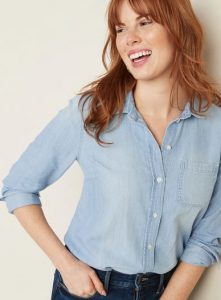 What is a chambray shirt?
Before giving you any advice on how to wear your chambray shirt properly, we would first like to explain to you what chambray fabric is.
The chambray fabric is made up of 2 different colored threads: an ecru thread and a colored thread (indigo most of the time).
Chambray shirts are often made from cotton, but it is also possible to make them from other materials such as linen.
The term chambray comes from the town of Cambray in northern France where the fabric was originally produced (the first chambray fabrics date back several centuries, so at the time they were probably made from linen).
The chambray weaving is done with what is called plain weave. Plain weave is a weave where the yarn placed across the width (called the weft yarn) passes alternately under and over the yarn placed lengthwise (called the warp yarn).
What outfits to wear a chambray shirt with?
a) The chambray shirt in a casual outfit
 The online women shirts are most frequently worn in casual outfits because its denim-like appearance makes it easy to match in this type of look.
It can be worn closed with blue chinos, white sneakers and a wool overcoat or open over a white t-shirt with brown ankle boots and raw jeans.
You got it, chambray is an ideal fabric for casual outfits so don't hesitate to overdo it when going out with friends.
Can you wear a chambray shirt with a formal outfit?
It is rarer to see chambray shirts worn in formal outfits even though they can bring a touch of originality and relaxation. Blue chambray shirts go well with navy blue, black and gray. So don't hesitate to combine them with your suits for your work outfits.
What accessories for your chambray shirt?
When choosing a shirt, you have to think about the pieces with which you will be able to associate it: suit, jeans, sweater etc. and also to accessories: tie or bow tie.
Can you wear a tie with a chambray shirt?
The chambray shirt can be worn with a tie and the tie even provides an interesting contrast to the casual style of the shirt. Pairing a chambray shirt with a tie, a blazer and jeans for a casual chic look that is easy to wear for work or weekends. You can also compose your outfit with a suit, a tie and a chambray shirt; the latter will bring a casual touch to this formal look.
The chambray shirt having a mottled appearance, choose sober tie colors such as black, navy blue or burgundy.
Can it be associated with a bow tie?
Like the tie, the bow tie can also be worn with a chambray shirt. The bow tie brings a touch of originality to a casual outfit but can also bring elegance to a formal outfit.
To pair it with a chambray shirt, don't go overboard; just be careful not to choose it too colorful. (the color recommendations are the same as for the tie, stay in sober tones).
For more details, please visit: holaamor.org