The pants that fit well
If you like slim pants, then wear a looser top: in fact, tight top & tight pants on a round silhouette will not be the best effect. So choose a long sweater with your skinny jeans, a blouson-style shirt (a white or blue man's shirt-style shirt is a safe bet), and a well-cut tailored jacket.
However, avoid the skinny which really hug the legs and does not let any flaws pass!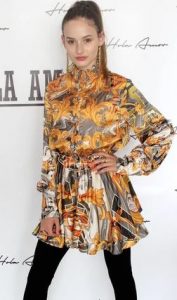 Jeans adapted to your figure
Those in which you feel good!
– The basic and timeless slim,
– The boot cut (tight at the thighs and flaring from the knee) which lengthens the silhouette while camouflaging the calves and is worn with heels,
– The raw colored flare (a little wider than the boot cut at the thighs and also flares from the knees) chic for going to work
– The girlfriend wide at the top and which tightens at the ankle, it is worn with the bottom rolled up…
The leather jacket or the perfecto, a basic of a stylish wardrobe
Choose it not too tight but not too wide either. The leather jacket or the perfecto is a garment that you keep open and to choose the size that suits you, close it and it must be tight (but you must succeed in closing it). Take it in leather or in good quality imitation leather. Black obviously!
The perfecto can be worn with everything but since it is short, for a round silhouette, I advise you to wear it with a skirt or a skater dress (emphasizing the waist), or a pencil skirt. If you wear it with skinny pants, wear a blouse or a sweater that reaches mid-butt underneath.
The blouse that feminizes a look
Have fun with the blouses for women UAE that you will wear tucked into your pants if it is wide by having it "bloused" with a pretty belt to mark your waist or over your pants if it is rather slim.
Summer or winter, the plain or patterned blouse is a safe bet unlike the long-sleeved T-shirt which will not be flattering if it tends to hug your arms!
The tailored jacket always chic and not necessarily classic
Bet on the tailored jacket: it brings a chic touch to your look.
With jeans, it is perfect! Choose it well cut, adjusted to your size and above all neither too wide nor too narrow!
If you want to hide your buttocks, choose it long enough but curved.
Do not close it, a jacket is worn open.
Heels for every season
Wear heels!
They lengthen the leg and slender your figure.
I'm not necessarily talking about 10 cm stiletto but boots with 6 or 7 cm heels (bevelled for a lighter effect) in winter with your pants, heeled boots with your skirts or dresses, Salomés in spring , wedge sandals in summer.
As for sneakers, they modernize your look if you wear them with a more classic outfit but will still tend to compress the silhouette just like any flat shoe!
Color in your wardrobe
Dare the colors, they will give you pep and assert your personality!
Vermilion red or sea green sweater; wear the colors with which you like yourself! And try to find an accessory that recalls the color worn, such as a scarf or a belt.
Bet on colorful tops and dark bottoms, because the eyes will automatically be drawn to these colors.
Pretty accessories
Add the final touch to your look with jewelry you like: large bracelets, long necklace and accessories that will complete your look: belt, scarf…
However, do not overdo it and do not wear the full range of bracelet, necklace, earring, especially if they are present!
The bag is also important in the composition of your look: prefer it in the hand and in a good size (but not oversized). And in the evening, opt for the handbag!
For more details, please visit: holaamor.org